The Golden Harvest Bakery
Some of our most featured products are our homemade bakery goods. We use certified organic stone-ground whole wheat flour, extra-virgin olive oil or butter, agave nectar or honey instead of corn syrup and organic seeds, nuts and organic rye berries freshly ground as needed.

We bake a variety of fresh breads and bakery goods daily
Our Delicious Breads
Whole Wheat
Rye
Cranberry Walnut
Cinnamon Raisin
Oat Flax
7 Grain
Olive Oil Whole Wheat (Vegan)
Olive Oil 7-grain (Vegan)
Naan Bread
Pita Bread
Whole Wheat Dinner Rolls
Squash Dinner Rolls (in season)
Whole Wheat Dinner Rolls
Whole Wheat Hamburger Buns
Whole Wheat Hot Dog Buns
Oat Flax Hamburger Buns with
or without sesame seeds
White Bread
French
Asiago Cheese
Tomato Asiago Cheese
Cherry Almond Sourdough
Sourdough French
Garlic Sourdough French
Whole Wheat Sourdough
Cheddar Cheese Bread Sticks
Cheddar Cheese Jalapeño Bread Sticks
Petite Pan
Pumpkin Bread in Season
Banana Bread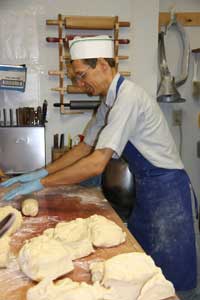 Pies
Strawberry Rhubarb
Raspberry Rhubarb
Black Raspberry Strawberry
Apple
Dutch Apple
Apple Cranberry
Triple Berry
Blueberry
Cherry
Rhubarb (in the summer)
Peach
Cranberry Apple (Thanksgiving and Christmas)
Pecan and Pecan Chocolate Chip (for the Holidays)
Pumpkin (Seasonal, Thanksgiving and Christmas)

Granola
Cranberry Walnut
Maple Nut
Multi grain Flax
Almond
Cherry Almond
Chocolate Pecan

Biscotti
Regular
Anise
Chocolate Pecan
Cherry
Cranberry Orange Chocolate Chip
Lemon White Chocolate
Peanut Butter
Pistachio Cherry
Cookies and Bars
Peanut Butter
Oatmeal Chocolate Chip
Coconut Oatmeal Raisin
Ginger Snaps
Peanut Butter Chocolate Chip
Cranberry Oatmeal
Pumpkin Chocolate Chip
PB Max Bar
Peanut Butter Bar
Brownies
Carrot Bar
Cup Cakes
Zucchini Chocolate Chip
We offer cream pies and cakes available upon request.
For Christmas and holidays though out the year we provide a complete selection of homemade frosted cookies, stollen and seasonal pies that make any occasion a little tastier.
Call ahead to ensure availability.